Health Coverage in 2023: A Strategic Visioning Workshop
Event Date: 5/15/2019 - 5/16/2019
Event Overview

Explore near-term disruption by powerful companies in our midst
For the first time our industry has well-funded and ambitious new competitors from other sectors seeking to disrupt the industry with the goals of reducing costs and realigning around the consumer.
Join your Alliance executive peers for a strategic visioning exercise focused on how health care could be financed and delivered in 2023.
This one-day workshop will be led by strategic visioning expert, Nancy Wise, Spring Street Exchange. Spring Street Exchange specializes in strategic and operational transformation in health care. Together, using strategic visioning exercises, we can drive alignment, impact and efficiencies around change.

Please note: This is a private event for Health Plan Alliance members only.
---
Agenda
WEDNESDAY | May 15, 2019

6:00 PM DINNER: HUGO'S INVITADOS
THURSDAY | May 16, 2019
7:30 AM BREAKFAST
8:00 AM - 3:00 PM VISIONING WORKSHOP
---
Why you should attend
Many health care leaders spend most of their time focusing on critical and short-term business needs, all while there are rapid changes in the market happening around them. Stepping out of this day-to-day creates an opportunity to engage with a diverse group of peers to tackle challenges and opportunities on the horizon. Visioning sessions are short and impactful, bringing a wealth of energy and practical outcomes.
---
Takeaways
Perspective: A perspective on the impact, threats, and opportunities associated with powerful new competitors / partners.

Analysis: A Data Pack that highlights critical issues on where health coverage may be heading.

Framework: An approach that your organization can apply to visioning and scenario planning work with your leadership team, board, and partners.

Action steps: Specific and immediate action steps that can be taken to address transformational changes in the health care environment.

Connections: The small group environment leaves people connected and invigorated. Many choose to stay in touch with others from their cohort afterwards.

Involvement: Conversations with key stakeholders rather than lectures from vendors, peers, and "experts."
---
About Spring Street Exchange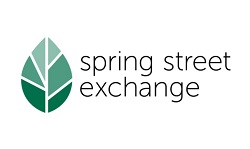 Spring Street Exchange was founded in 2016 to offer a better approach to a services partnership to the health care industry. Most of us have spent our careers in health care, often running into familiar obstacles and also health care heroes – those working every day on behalf of patients. We decided to dedicate ourselves to this cause. We are not another services firm looking to capture our piece of our nation's health care spend. Enough. Instead, we work with organizations who are interested in breaking from the status quo and stepping out into new territory. We can fix health care, together, one step at a time.
Nature is our inspiration. We are awed by the the power, strength, and operational brilliance of natural systems. We believe in stepping back to address problems from a fresh perspective. If you are an agent of transformation, we are grateful to meet you and can't wait to roll up our sleeves and get busy.
Work + Play
Don't miss dinner on Wednesday, May 15th! This is your opportunity to meet your visioning workshop facilitator: Nancy Wise, Spring Street Exchange, and network with the executive-leaders you'll be "visioning" with on Thursday. Plus, we'll cover what you need to know and what to start thinking about in preparation for the workshop.
---
Who attends?
We put some thought into balancing attendees from a range of disciplines in health care. This includes mostly C-Suite executives, but also leaders from different levels of the organization. We typically include a mix of alumni and new participants to ensure both some experience with this methodology as well as fresh ideas and perspectives.


---
What's it like?
By taking on the role of different stakeholders, we collectively identify changes in the competitive and environmental landscape. Participants leave feeling invigorated and empowered to tackle these challenges.

---
"Nancy and the team at Spring Street Exchange offer an immersive workshop with tangible outcomes. During the Scenario Planning Palooza process, executives collaborated to anticipate and combat disruptions and industry obstacles using strategic visioning techniques. Bringing this approach back to Network Health has allowed us to remain customer centric while maximizing internal time and talent to concentrate on service excellence and innovation. "
Jessica Fischer
Director, Strategic Planning
Network Health
---
"Strategic Visioning takes leaders away from their everyday concerns. It gives them the opportunity and forum to focus on upcoming industry changes in a shared, energetic and thought-provoking way. This is why it is a key component of my planning and development process, and why I recommend it to other leaders."
Stephanie Beever
Chief Strategy Officer
The Carle Foundation
Venue
Health Plan Alliance Headquarters
290 E. John Carpenter Freeway
Irving, TX 75062

The hotel provides a shuttle to the Alliance office which is where the meeting will be held.
Omni Mandalay Hotel
221 E Las Colinas Blvd
Irving, TX 75039
972.556.0800
Website
Reserve your room by April 24th. Click here to book a room at our rate of $189 plus taxes/fees.
DRESS
Business casual attire is appropriate for the meeting. Remember that the hotel meeting room temperatures vary, so we recommend that you layer clothing to be comfortable in case the room becomes either hot or cold.


GROUND TRANSPORTATION
Taxi from the Dallas/Ft Worth International airport and Love Field airport is approximately $25 one-way. UberX is $17-20. The hotel provides a shuttle to the Alliance office at 290 E John Carpenter Fwy, which is where the meeting will be held.


DALLAS WEATHER
View the latest weather forecast.
Documents
Attendees
Below is a list of all delegates registered to date for this event
Speakers