Blog: Innovation at work
Cathy K. Eddy
12/27/2019

---
"We keep moving forward, opening up new doors and doing new things, because we are curious…and curiosity keeps leading us down new paths."

— Walt Disney


---
When I retired from my position as Health Plan Alliance president in April 2018, one of the nicest surprises I received was the Cathy K. Eddy Health Care Leadership Lecture Series which would continue to promote the values I encouraged during my tenure at the Health Plan Alliance: governance, innovation, collaboration and mentorship.
Innovation was the focus of our first CKE session. We have all grown up enjoying the creativity of Disney. Duncan Wardle, former head of innovation and creativity at Walt Disney Company conducted a captivating workshop for the executives at the 2019 Fall Leadership Forum. You know it's a hit when no one picks up their phone for three hours.
To give you a sense of the ingenuity of this speaker—he literally put a "man" on the moon. Buzz Lightyear's fondest wish was to go into space and Duncan managed to talk NASA into taking him. He then arranged to get Buzz Lightyear back to earth…think of it as a "no man left behind" mission. This special toy now lives in the Smithsonian.
The following are some of my takeaways from Duncan's time with us and what many of the health plan executives told me they planned to use back home.
Yes, and...
One of the most powerful exercises of the workshop was a way to get your team involved and be open to new ideas. As executives using our expertise, we tend to critique a proposal with a comment that starts with "no, because" and point out why something will not work. While well intended, this reaction can discourage others from sharing ideas and shut down creativity. Duncan encouraged us to continue the conversation by saying "Yes, and…" This approach expands on ideas and gets to a more positive outcome.

Having a purpose
Gen Z cares more about having a purpose than making a profit. How can you tap this value to drive innovation in your company with younger employees? Duncan shared how he was working with a tool company and spent time talking to customers in hardware stores to see what they valued about tools. Surprise, it wasn't the tools—they were looking for something to help them build their dreams. Talking with customers helps understand their motivations. We turn that interaction into action.

Tap into your "inner" child
Children have wonderful imaginations and no company has cultivated that more than Disney. When asked to describe kids, these words were shared:
Spontaneous
Uninhibited
Trusting
Willing to be wrong
Have no fear
Try new things
Have fun
And no one does a better job of asking "why?"
Duncan said we don't encourage this creativity in our work and we can gain a lot by being open to sharing ideas. He also said that to keep asking the question "why" numerous times gets to a better understanding of underlying needs. Try asking "why" enough times to create discomfort, dig deeper and bring insight.

Drawing out introverts
Those of us who are extroverts never seem to have a problem sharing what we think, but often it's the quiet ones who have something valuable to add to the conversation. Duncan suggested a way to draw in all viewpoints by using a format that worked great in the workshop. You use groups of four sitting close to each other that allows everyone to participate. The use of "yes, and" quickly adds details to the concepts. He also used the following format to document and share the ideas from the group discussions.

T-sheet
Duncan explained people learn in different ways so it's important to use visual, audio and kinesthetic approaches. He said the use of the T-sheet is helpful to capture details: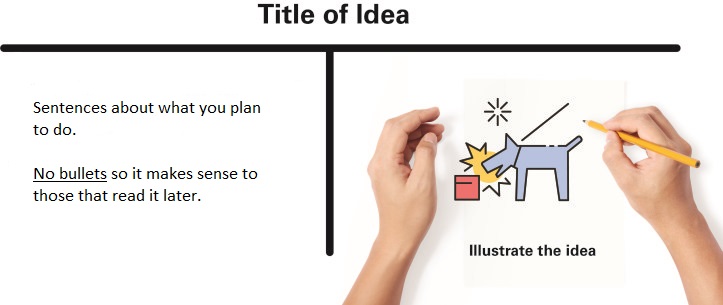 What if...
Walt Disney's legacy has been to create a new type of customer experience in entertainment. He asked the key question "what if." The company he started has grown to include theme parks, hotels, cruises, film studies, cable stations and much more.
Many new ideas disrupt old models. Duncan shared how he used the "naive expert" to bring different perspectives into the discussion. One example he shared was for the architectural design for Disney in Asia. In addition to the group of architects, he added a 30-year-old female Asian chef who brought a diverse and unique perspective. This project was "Distinctly Disney, Authentically Asian."
He also told us about Mildred, a 78-year-old who worked in a call center. She liked to chat and make people happy. She pointed out that she couldn't mention an offer unless the guest raised it first. Her perspective to provide the offer unconstrained drove revenue from $22 million to $200 million. What ideas could your customer service representatives share if asked?

How might impossible become I'm possible
One of the most interesting examples Duncan shared was getting to your customer's pain point and using innovation to address it. For Disney customers, it was waiting in line. Using RFID technology, Disney created a wrist band that allowed its customer to enter their hotel room, the park, the rides and stores and not have to wait in line to check in or pay. The technology freed up 90-120 minutes of time to do more enjoyable things. And that translated into more profit for the company as well. It also provided a lot of data that allowed the company to put staff where it would help customers the most.

Core human traits
Creativity, imagination, curiosity and intuition are all basic traits that can be leveraged to drive innovation. They aren't traits that can be programmed into technology. Duncan challenged us in this energized workshop to tap into these with our employees and customers to improve our business and enhance the experience.
A big thanks to Duncan and the Health Plan Alliance team for such a special kickoff to the CKE Speaker Series. It was a wonderful experience to look at innovation and how to embrace it at work, and to have some fun while we are at it!

---

Want more?
Connect with event attendees to hear what they gleaned from the session and how they are implementing what they learned. Visit the attendee tab of the 2019 Fall Leadership Forum page to see who was at the event.
Enjoy more sessions like this one at the Alliance's 2020 Leadership Forums. Registration is open now. We look forward to seeing you there.

Spring Leadership Forum 2020
March 23 - 26, 2020
Irving, Texas

Fall Leadership Forum 2020
October 5 - 8, 2020
Denver, CO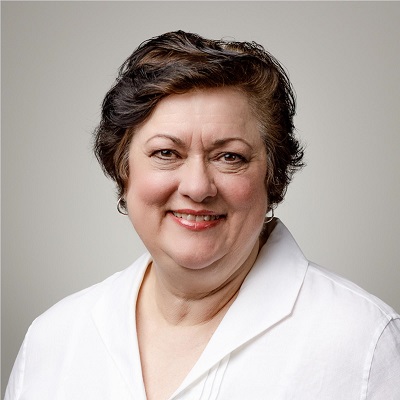 Cathy K. Eddy
Cathy K. Eddy founded and led the Health Plan Alliance until she retired in April 2018. In addition to the oversight of the Alliance board of directors during her tenure, Cathy has also been a speaker and facilitator for numerous boards providing expertise in health care reform, provider ownership, managed care trends, governance, accountable care, and future direction. She received her MBA in health care management and insurance from the Wharton School at the University of Pennsylvania. She has a bachelor's degree in news/editorial journalism from Kent State University.


---
Alliance member upcoming and recent events
Register now for these upcoming events
View the presentation materials from these recent events
To post comments, Click Here to Login