Maura McCaffrey, former President and CEO of Health New England, passed away on April 14
Health Plan Alliance
04/22/2020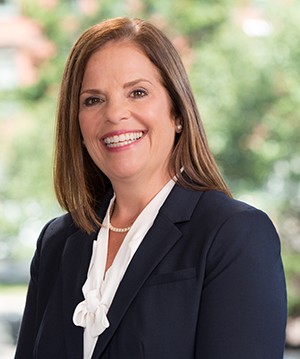 Maura McCaffrey
Former President and CEO of Health New England
The Health Plan Alliance team is saddened to share that Maura McCaffrey, former President and CEO of Alliance member Health New England (HNE), passed away on April 14. Many Alliance members will remember Maura's engaging personality and commitment to the communities she served.

Maura served on the Alliance Board of Directors from 2015 – 2018 and served on the Executive Committee as the Programs and Partnership Committee Chair from 2017-2018. She embodied much of what the Alliance stands for: collaboration, innovation and leadership. She encouraged her team to reach out to other Alliance members when faced with a challenge and she ensured her team gave time when Alliance members' staff contacted HNE for a site visit or conference call to learn from HNE's successes. Collaboration remains central to HNE's corporate culture.

The impact she had on the HNE team is demonstrated in the below announcement shared on April 14 by Marion McGowan, current HNE President and CEO, and written by long-time colleague Jody Gross, VP Operations and Government Programs at HNE:


Dear Health New England Family,

During this uncertain and difficult time, I am sorry to say that I have some very sad news to share with all of you.
We were just informed that Maura McCaffrey, former President and CEO of Health New England, passed away earlier today. This is an enormous loss to everyone at HNE and beyond, as we have all lost a remarkable human being.

No words can adequately express our sadness at Maura's death or our gratitude for the opportunity to work with her. Many of us worked side by side with Maura, as I did, from her first days in 2002 until her departure in 2018. During that time she made an indelible mark on who we are today and we will keep her legacy of great service, personal relationships and outstanding stewardship alive and well. Personally, I observed her kindness and compassion, her tireless energy, and her fierce determination to serve her fellow associates, our members, and the greater community for those 16 years. Looking back, it was an honor.

We extend our most heartfelt condolences and sympathies to Maura's husband Ed and her sons Patrick and Connor.
At this time we do not have any additional details. We will certainly share information as we receive it. There are many stories to share and many deep feelings to express. Although we are working apart, we will be sure to make time for our HNE associates to pay tribute to someone so deeply loved.


With deepest condolences,


Jody
Please join us in keeping the HNE team and Maura's family in our thoughts as well as Maura in our memories. Individual and corporate donations in Maura's memory can be made to two organizations:
West Brookfield Rescue Squad
(a 501(c)(3)) provides emergency and social services to their area, often serving those most in need. The president, Dan McCall, knows the McCaffrey family, and confirmed they would be significantly impacted in a positive way by any donations in Maura's memory.

Dan McCall, President
West Brookfield Rescue Squad
P.O. Box 540
West Brookfield, MA 01585
1-508-637-1778
d.mccall@wbrescue.net
https://westbrookfieldrescuesquad.com

Baystate Health Foundation
501(c)(3) is the charitable arm of Baystate Health, the parent company of Health New England. Gifts in Maura's memory will support the Neonatal Intensive Care Unit (NICU) at Baystate Medical Center, an area that was special to Maura. You can make a notation that the gift is in honor of Maura and they will make sure it is directed appropriately.

Scott Berg
Baystate Health Foundation
280 Chestnut Street
Springfield, MA 01199
Scott.Berg@Baystatehealth.org
https://www.baystatehealth.org/giving