Cathy Eddy's summer reading list
Cathy Eddy, Health Plan Alliance
07/24/2017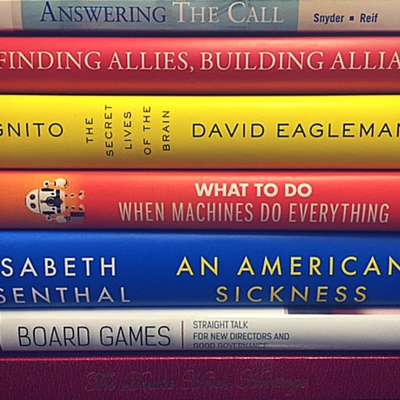 One of the great aspects of my career has been the ability to be a life-long learner—keeping up on trends in the health care industry is part of my job description. I go to several conferences throughout the year as a way to gather ideas and challenge my thinking.
During the past couple of months, I've been given half a dozen books. Some of these are written by individuals who were speakers at conferences and meetings I've attended and others were given
as food for thought.
The topics are diverse—boardroom dynamics to brain functions and working collaboratively to turning over work to machines. So here is this CEO's reading list and a few of my take aways:


An American Sickness: How Healthcare Became Big Business and How You Can Take It Back
Author: Elisabeth Rosenthal
DST Health Care Advisory Board
This book is from both a physician and journalist's point of view. Our industry is "big business" and Dr. Rosenthal does both a diagnosis of what is wrong with health care, but what the patient can do about it. She encourages the consumer to be more active participant.
Takeaway: Consumers can have more control if they become more knowledgeable and involved in their care. This book is a consumer how-to guide. What can health plans do to be a better vehicle to educate members and help them have a better customer experience in health care.
Answering the Call: Understanding the Duties, Risks and Rewards of Corporate Governance
Authors: Lynn Shapiro Snyder and Robert D. Reif
Health Plan Alliance CEO Governance Workshop
I have valued the years I have spent serving on boards – it has helped to give me a more in-depth perspective of strategy and leadership. The lessons I've learned have helped me to support many of the members in the Health Plan Alliance on governance issues. One of my resources for governance training has been Women Business Leaders, an organization that actively supports executive women on boards. Lynn Snyder, who founded WBL, pulled co-authored a great "how to guide" for board members, which is now in its 4th edition.
Takeaway: Being an effective board member requires a conscious effort to be prepared for the role. Understand your obligations as a board member is important and this doesn't automatically happen when you join a board. Continue to look for best practices, ask questions and look for resources that can build your expertise. This book is helpful to anyone who serves on or works with a board. It can be a great resource for orienting new board members.
Board Games: Straight Talk for New Directors and Good Governance
Authors: John T. Montford and Joseph Daniel McCool
WBL Summit
Wheless Partners is an executive search firm and Cindy Chandler, managing partner, provided Board Games to those attending the WBL Summit this year. Her search work for board members indicates that health care organizations are looking for more diverse individuals to serve.
Takeaway: I found my takeaway in Chapter 7 "Getting the CEO Search and Succession Right the First Time: Don't Fumble the Handoff." I've been part of the CEO search process on three different boards and have observed many other changes at the CEO level. As a CEO, this has been a topic of discussion with my board many times over the past few years. Succession planning should be an ongoing process for boards and CEOs, but it is often not discussed or is an uncomfortable conversation. A board should discuss talent development and succession – it helps an organization be prepared for the expected and unexpected changes that occur. "The best CEOs create their own succession plans," according to Board Games.
Finding Allies, Building Alliances: 8 Elements That Bring – and Keep – People Together
Authors: Mike Leavitt and Rich McKeown
AHA/ Health Plan Alliance Health System/Health Plan Value Visit
Gov. Mike Leavitt always brings an interesting perspective on health care policy, leadership and the importance of collaborative leadership. He recently talked with health system and health plan executives in Chicago about the challenges the U.S. is facing in the world economy and how health care costs are a key factor. His book was given to attendees.
We met several years ago around the topic of collaborative leadership. The skills it takes be successful in leadership are changing and CEOs are leading more complex organizations. The Health Plan Alliance has been built on a collaborative framework. We have tried to create a network of like organizations that can learn from one another and are open to sharing.

Takeaway:
My takeaway are the five key traits Gov. Leavitt says exist in every value alliance:
Multiple interests – create a tension, produce creative conflict
Self interest – this is what drives participants to work with multiple parties
An incremental surrender of independence – necessary to avoid power politics
A free-standing governance process – helps direct the organization
Value that continues – the ongoing process to provide benefit to participants
I think all of these traits have been important to the success of the Health Plan Alliance and how it has driven value to its members for more than 20 years.
Incognito: The Secret Lives of the Brain
Author: David Eagleman
Accenture/Salesforce Dinner
Dinner speakers always have a challenging audience, but neuroscientist David Eagleman kept us engaged and in some ways amazed about his research about the brain. He was even wearing a vest with sensors that he's been testing as a means of non-verbal communication. How our brains work is mysterious to many of us. Our subconscious brain is very active and the larger portion, compared to our conscious mind that drives our personality and identity.
Incognito takes an in-depth look at how we think. In Chapter 5, he discusses how "The Brain is a Team of Rivals." We all have those internal battles between the rational and emotional views. There are times when we feel conflicted in the decisions we make.
Takeaway: We work in a very complicated industry and health care has lot of conflicting issues. Based on how the brain functions, it might be even more complicated to understand. We'll have to leverage our best collective thought processes to find ways to be successful in our current environment and find the right balance of rational and emotional thinking.
What to Do When Machines Do Everything: How to Get Ahead in a World of AI, Algorithms, Bots and Big Data
Authors: Malcolm Frank, Paul Roehrig and Ben Pring
AHIP Institute
Automation has changed our world in many ways and the pace of change is expected to accelerate in the future. Health care is often behind other industries in its use of technology, but what will change in the years to come. How will health plans leverage artificial intelligence and use big data.
Takeaway: We are going through a digital transformation of our business models. The ability to understand its implications and to harness the opportunities will be as much a leadership challenge as a technical one. Smaller health plans will need to make their investments wisely to be competitive in the future.


---
These books have given me lots to think about and ways to think differently about our challenges – what are you reading that is giving you a few "ah-ha" moments? Share your best summer reads in the comments below.
To post comments, Click Here to Login