Top takeaways from the 2017 Clinical Informatics Value Visit
Kristin Rodriguez, Health Plan Alliance
11/22/2017

We wrapped up our 2017 value visit calendar with a two and a half day event hosted by Alliance member Health First Health Plans in Orlando, Florida. The meeting theme was clinical informatics and the agenda boasted eight sessions led by health plans and provider partners, all sharing how their organizations are leveraging data and analytics as building blocks for success in VBP strategies. This event certainly isn't the first time Alliance members have discussed the industry's steady move to alternative payment models (APMs). In fact, in the spring of 2017 the Health Plan Alliance partnered with HealthScape Advisors, LLC on a VBP survey of health plans across the industry – both provider owned and otherwise. A prominent take away from that study? Critical drivers of success in APMs include data management, analytics, and care management. In other words, health plans that want to keep pace with the industry's shift to APMs have to get serious about not just aggregating data, but analyzing and interpreting it—and getting the resulting insights into the hands of those stakeholders who can actually do something about it.
It makes sense, but while it's not uncommon to find informaticists, analyst and med econ folks embedded in health plans, the truth is that information management remains the most underfunded work stream in our industry. With the Federal and state governments making up more and more of health plans' payer mix, that simply has to change, because quality, outcomes and satisfaction will soon overtake cost and utilization as key drivers of success. In fact, Jay Sultan VP of TranZform product management with Cognizant predicted that "over the next five years, you're going to spend as much time on quality data as you do on cost data, because that's where payment reform is going." The implications for health plans are far reaching and disruptive to current IT and workflow set ups. Jay offered a number of takeaways for attendees to consider as they continue the conversations back at their health plans:
Key considerations when developing capabilities to support VBP
Remember that claims remain fundamental, but now that we're measuring performance, a claim and a contract are no longer enough. We need more data.
Payment reform is not limited to payment processing. It drives complexity and uncertainty that will reduce payment collection at the point of care.
Other than the core system, the greatest IT impact of payment reform is on increased demand for BI Capabilities.
If you aren't on top of MIPS, you need to be.
Remember that providers are now your partners, not your vendors. Their success is now your business. Work to turn your health plan into the payment reform help center. Collaborate with your provider owners and partners to add value to the enterprise.
Listen to the podcast of Jay's session | Download the presentation slides
Data you can trust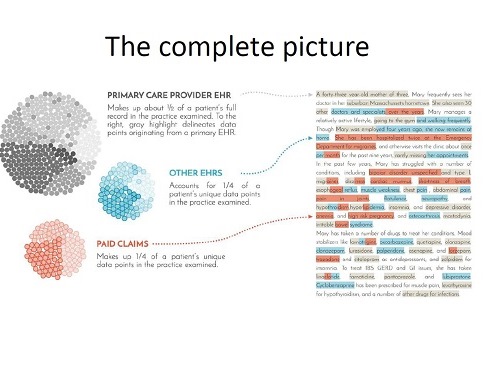 The leaders at Alliance member Community Health Plan of Washington (CHPW) have taken the call to leverage data more meaningfully to heart, and have invested heavily in a robust data warehouse powered by Arcadia Solutions technology. Julian Bester, program manager – CHC technology services with CHPW, described how aggregating the clinical and administrative data has provided a more complete, longitudinal picture of the population CHPW serves. At the beginning of the project, Julian said, "We simply started with the idea: let's build a foundation of data we can trust. It was only when we started putting this data together that we began to realize its true value."
View the entire presentation from CHPW | Download the podcast of Julian Bester's presentation
That aggregated data is paying dividends for CHPW and the provider owners, providing real-time performance tracking for the FQHCs, registries and patient information that support pre-visit planning and patient engagement, analysis of ED utilization and identification of frequent flyers, and patient risk score calculation and identification of coding gaps to drive accuracy in risk adjustment.


Using data to address social determinants of health
Mission Health Partners, the ACO that is part of the same North Carolina-based health system as Alliance member Healthy State, offered another perspective on the ways data can provide a "complete" picture of the patient population, and be leveraged to broaden the influence health care providers have on health outcomes. We have known for some time that clinical care only drives 10% of a population's health outcomes; 40% is dictated by social and economic factors. Yet managed care organizations are now being measured on those outcomes. Mission Health Partners has embraced the challenge and has mindfully built a care management approach inspired by the community health worker model, with a focus on identifying and addressing social determinants of health. Claims, clinical and utilization data are combined with insights gained from care manager assessments and social determinants data feeds from an external vendor to refine the risk profile of a patient. The ACO's care managers then leverage insights gained from the aggregated dataset to help patients directly address the headwinds that negatively impact their health outcomes. Dr. Rob Fields, the Medical Director of Mission Health Partners, shared that the three most in-demand social services that address the widest range of social determinants needs include legal aid, food security solutions and housing. For Mission Health Partners, integrating the automated social determinants data into the organization's administrative and clinical data has helped them understand the patient's story, and it is that which has allowed them to achieve their impressive quality scores and appropriately manage their risk. When it comes to engaging the clinicians, Dr. Fields underscored that "if you can get the physicians to just consider that they may not be getting the results they want from their clinical care because a social determinant is standing in that patient's way, and get them to call our case manager to help solve for it, that's a win."
Listen to the podcast of Dr. Field's presentation | Download the presentation slides


In brief
The question of how to appropriately engage stakeholders regarding data management and insights was addressed throughout the event. Whether your audience is the health plan's executive team, CIN or ACO leadership, or a practicing clinician, it's challenging to find the right approach that resonates. Some lessons learned and best practices from the group included:
Health plans developing a VBP strategy can win hearts and minds by running models on your provider and employer group data. Show them how they would have performed and offer support to close the performance gaps.
Make sure you're asking the right questions. Instead of asking "what data do we have" ask, "what data do we need?" This will keep you focused on the intended destination, rather than limiting you by what's available.
Building an executive dashboard? Consider these five big categories to include: financial health, operational efficiency, quality, growth, and talent.
When discussing documentation with individual providers, put risk adjustment in context by explaining that coding accuracy is really important to patient outcomes. It helps drive care management activities and resource allocations, as well as product design.
If your organization is just beginning to establish enterprise data principles and you are looking for an executive champion to support the project, start with the chief medical officer and the chief financial officer, because these two leaders rely on data insights more than any other.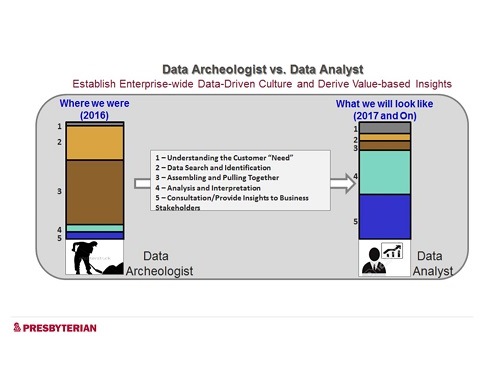 No matter where your health plan is on this path toward value based payment and care transformation, transforming your informatics area from a team of data archeologists to a team of analysts is critical to your success. Explore with your stakeholders how to empower a shift away from assembling data and toward analyzing and interpreting it. Once the tools and processes are in place, you'll be on your way to influencing the health outcomes of your member population, before, during and after the points of care.
View the entire presentation from Soyal Momin, VP, data and analytics at Presbyterian Healthcare Services | Listen to the podcast
To post comments, Click Here to Login