Medical Associates Health Plans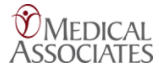 Company Profile
Alliance members, log in to view this company's complete profile.
Demographics
Year Licensed: 1982
Accreditation Type: NCQA,
Number of Employees: 105
Health Plan Profit Status: For profit taxable,
Health Plan Tax Status:

Alliance Company Type: Partner
Alliance Member Since: 1/1/2003
Alliance Shareholder Since:
CMS Regional Office: Region 7
Articles
9/24/2018
NCQA rated 1,000-plus health insurance plans based on clinical quality, member satisfaction and NCQA Accreditation Survey results for its rankings. Medical Associates Health Plan was one of only eight health plans to achieve this ranking.
10/17/2017
Four of the 23 plans that achieved a 5-Star Rating for 2018 are Health Plan Alliance members! See which plans made the list.