Value Visit: Operational Excellence and the Evolution of IT
Event Date: 8/22/2022 - 8/25/2022
Event Overview
Proof of COVID-19 VACCINATION REQUIRED to attend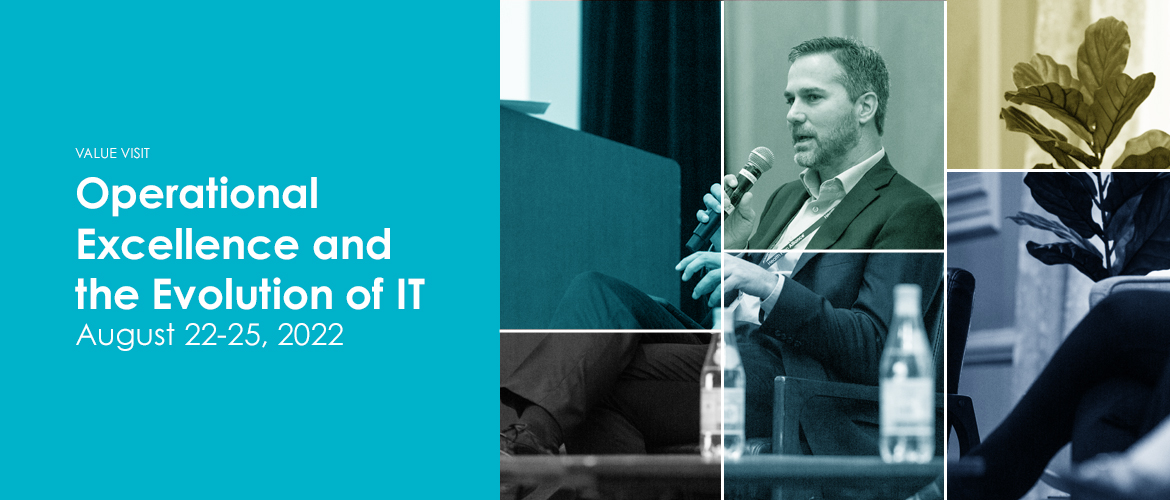 Work together with top operations, data management,
and enterprise architecture leaders
The Operations Excellence & Evolution of IT Value Visit brings together top operations, data management, and enterprise architecture leaders for a multi-disciplinary exploration of the inflection point facing Alliance member health plans. Our health plan-led faculty dives deep into how they're working toward greater operational efficiency, holding vendors accountable and mitigating risks, redefining the underpinning data structures needed to achieve strategic goals, and designing an Enterprise Architecture roadmap that generates business value and innovation.

Together we'll tackle these themes, which are defining health plans' success or failure across the country:
Operational efficiency and process improvement
Data architecture and data governance
Meeting regulatory requirements and new "table stakes" competencies head on: NSA, Interoperability, Price Transparency – and managing vendors with an eye on enterprise risk management
Leveraging technology and data to optimize health plan operations and make the organization more resilient in the face of constant disruption
Developing (and executing) an Enterprise Architecture Roadmap that generates business value through innovative technologies and approaches to information
---

Event highlights
Dig deep into real-world examples with nearly TEN Alliance member case studies focused on the issues your team is tackling back home.
Learn how other health plans are leveraging the investments made in response to regulatory requirements like NSA and interoperability to engage members, further population health and deliver on their brand promise.
Engage with top experts from Gartner in a workshop setting: Developing (and executing) an Enterprise Architecture Roadmap that generates business value through innovative technologies and approaches to information.
Get real when it comes to Data Governance. Learn how others are doing in the constant chase for achieving an underpinning data structure and high-quality data management methodology.
Stretch your thinking (and your approach) regarding vendor selection, management, and accountability. How others are addressing the need for speed, risk mitigation, and making cost optimization a continuous discipline.

---

Who should attend
Executive stakeholders in health plan operations, IT or data architecture, and also top leaders who have responsibility for project management, process improvement, vendor management, and data governance. In addition, leaders who coordinate efforts related to your health plan's digital transformation roadmap, vendor accountability, or regulatory requirement implementation will find this meeting of particular interest.
---
COVID Protocols
What to expect: Health and Safety Protocols
The Health Plan Alliance's hallmark is the unique space we provide for our members and partners to come together and meaningfully connect around the challenges and opportunities your organizations navigate every day. The health and safety of every attendee is our top priority and we are implementing health and safety protocols for our in-person events aimed at protecting all participants.
These protocols will be updated in response to ongoing guidance from CDC and local health authorities. If you have attended Alliance in-person meetings before, know this experience will be different in many ways – but also rest assured that we remain dedicated to creating unique opportunities to connect, learn and share with your colleagues from across the country.
Please review the Updated Safety protocols HERE.


By registering to attend the event you agree and understand these specific risks noted below:
Liability Disclaimer and Release: COVID-19

The novel coronavirus, COVID-19, has been declared a worldwide pandemic. COVID-19 is reported to be extremely contagious. The exact methods of spread and contraction are unknown, but the virus is believed to spread from person-to-person, by contact with contaminated objects, and even possibly in the air. People reportedly can be infected and show no symptoms yet still spread the disease. COVID-19 is reported to cause serious illness and death. The Health Plan Alliance cannot prevent attendees from becoming exposed to, contracting, or spreading COVID-19 while attending a HPA event or activity. Any in-person interaction may increase the risk of contracting or spreading COVID-19.

I agree and understand these specific risks and nonetheless accept them in order to attend this HPA event. These services are of such value to me that I accept the risk of being exposed to, contracting, and/or spreading COVID-19 in order to participate in person rather than arranging for an alternative method participating or not participating at all. I further hereby forever release and waive all claims and rights against the Health Plan Alliance in connection with exposure, infection, and/or spread of COVID-19 related to utilizing their services or premises or interacting with their members. I understand that this release and waiver means I give up my right to bring any claims including for personal injuries, death, disease, property losses, or any other loss that may be released and waived under applicable law, including, but not limited to, claims of negligence, and I understand that this release and waiver prevents me from seeking damages in any way against the Health Plan Alliance, whether such damages are known or unknown, foreseen or unforeseen, or that occur now or in the future.

I understand that the Health Plan Alliance and the event venue will implement COVID-19 health and safety protocols that align with the most recent guidance released by the CDC and the local health authority. These protocols will include details regarding code of conduct and safety measures (ie, wearing masks in public spaces, maintaining physical distance during sessions, etc) for all attendees. I understand I will be expected to adhere to these guidelines.
Agenda
Last updated August 5, 2022
(All details in Eastern Time Zone)
AGENDA AT A GLANCE

MONDAY, AUGUST 22

6:00pm

Welcome Reception

TUESDAY, AUGUST 23

7:30

Breakfast and registration

8:30

Welcome and kick-off

9:00

Case study: Adapting legacy project management techniques to today's demanding environment

10:00

Break

10:30

Case study: Getting from data aggregation to analytics to actionable insights for business owners

11:30

Leveraging the investments driven by regulatory requirements to engage members, further population health, and deliver on our brand promise

12:30

Lunch

1:30

Case study: Fine tuning productivity monitoring and seizing process improvement opportunities to optimize operations

2:30

Break

3:00

Co-create workshop: How the Health Plan Alliance can support your vendor management goals

4:30

Day one adjourns

6:00

Dinner

WEDNESDAY, AUGUST 24

7:30

Breakfast

8:30

Welcome back!

8:45

Roundtable discussion: Attracting (or growing), Recruiting (or keeping) the Talent you need to succeed

9:30

Break

10:00

Case study: Integrating payer and PBM operations on a single partner platform

10:45

Case study: Developing a structure designed to drive innovation

11:30

Townhall discussion: Mapping an operations, data, and technology course to enhance your plan's ability to compete

12:00

Lunch

1:00

Case Study: Replacing your care management system or core system to improve health outcomes

2:00

Break

2:30

Expert presentation and micro-workshop: Developing (and executing) an enterprise architecture roadmap that generates business value through innovative technologies and approaches to information

4:30

Meeting adjourns

6:00



Dinner

THURSDAY, AUGUST 25

8:00

Breakfast available at the hotel restaurant before you catch your flight out!
Venue
Portland Sheraton at Sable Oaks
200 Sable Oaks Dr
South Portland, ME 04106
207.871.8000


The hotel room block expires on July 29, 2022


Our room rate is $229 plus taxes/fees. This rate may be available three days prior and three days after our meeting dates, depending on the hotel's availability. You shoul
d call the reservations department at 207.871.8000 and ask for the Health Plan Alliance (Vizient) room rate or click here to book online. Should you call after the deadline, you will not be guaranteed to receive our group room rate or the hotel may be sold out. Please note that the group block could sell out before this date.
DRESS
Business casual attire is appropriate for the meeting. Remember that the hotel meeting room temperatures vary, so we recommend that you layer clothing to be comfortable in case the room becomes either hot or cold.
GROUND TRANSPORTATION
Portland International Jetport is 2.4 miles away and the hotel offers a complimentary shuttle. Complimentary on-site parking.
PORTLAND WEATHER
View
the latest weather forecast.
Documents
Attendees
Below is a list of all delegates registered to date for this event
Speakers