Value Visit: Population Health for Government-Sponsored Health Plans
Event Date: 9/21/2022 - 9/23/2022
Event Overview
Proof of COVID-19 VACCINATION REQUIRED to attend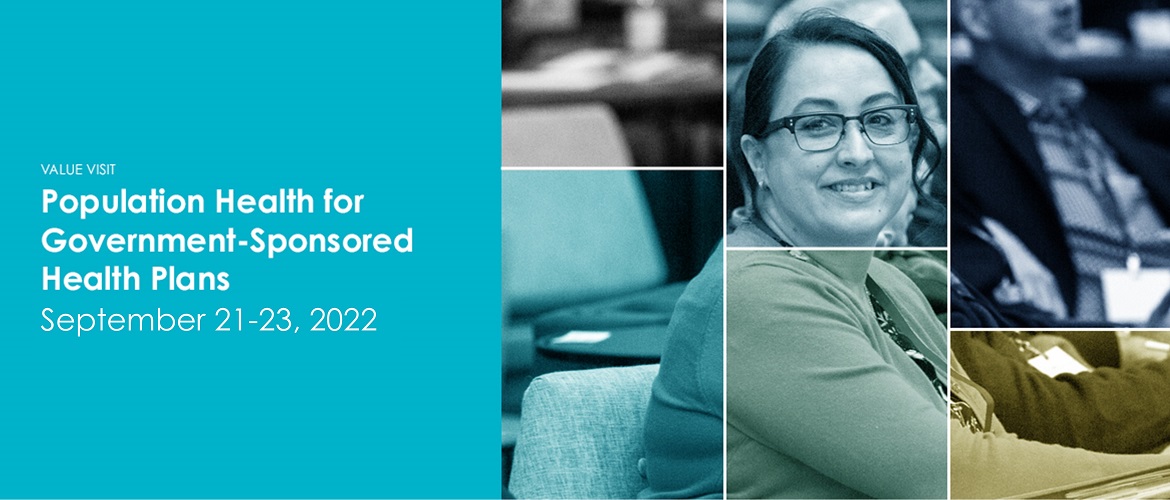 What it takes to launch, grow and sustain long-term
The COVID-19 pandemic has generated a huge health debt, particularly for government-sponsored healthcare beneficiaries across Medicaid, the ACA, SNPs, and Medicare Advantage. For Alliance health plans already serving these members—and for organizations entering these programs or expanding their markets—a renewed focus on your comprehensive population health strategy is critical to your immediate sustainability and long-term growth. That's why the 2022 Government Programs Value Visit will focus on the unique challenges government-sponsored plans face when it comes to the evolution of your population health approach.
We'll focus on what it takes to operationalize population health, including:
Engaging stakeholders
Assessing the needs of your members and stratifying risks
Identifying evidence-based actions
Developing collaborative care plans
Investing in partnerships and alliances and building interdisciplinary teams to surround your members
Coordinating whole-person care plans
Using performance metrics, scorecards and dashboards to monitor and evaluate program success to support iterative learning
Like all Alliance meetings, the program will feature provider-sponsored and regional health plans from across the country. We'll support this case-study-driven content with deep expertise from industry thought leaders and foster spaces that allow for meaningful conversation and ideation.

For the best results, send at least two members of your government-programs leadership team to ensure you can take advantage of every breakout and small group discussion opportunity.
---


Why you should attend
Generate new ideas and learn from your Alliance colleagues on Member Churn: How to create synergies within your organization's government-sponsored health plans to foster an end-to-end user experience that retains members


Explore additional steps you can take to fuel your population health efforts by becoming the data and technology hubs for your providers, members, and CBOs


Learn how others are navigating the evolving Quality landscape and gain tactical methods to move beyond a "check-the-box" approach to accreditation and embrace innovation targeting measurable quality outcomes


Dig into the challenges Alliance members operating in multiple government-sponsored programs are overcoming when it comes to building and growing provider partnerships strong enough to withstand risk adjustment training, quality gap closure efforts, and equitable health outcomes


Hear the latest efforts underway when it comes to designing MA and DSNP product offerings that manage medical spend, improve satisfaction and retention, and gain ground on quality outcomes

---
Who should attend
This Value Visit is an interdisciplinary meeting with strategic focus on the launch, growth and long-term sustainability of Health Plan Alliance members' government-sponsored healthcare programs. Executive sponsors, Vice Presidents and their direct reports with P&L responsibility for your Medicaid, Medicare Advantage, ACA, or Special Needs Plan will find this comprehensive event a powerful learning and networking opportunity. In addition, leaders with responsibility for the following will gain tremendous value from attending:
Population health, with particular emphasis on health equity
Data-fueled collaboration with your provider owners and partners, with particular emphasis on SDOH
Achieving Quality outcomes across your government programs portfolio (NCQA, HEDIS, Stars and more)
MA Product design, with particular emphasis on whole-person care and SSBCI
New plan launch or plan expansion, with particular emphasis on Special Needs and MA plans
Managing chronic conditions, with particular emphasis on Diabetes and ESRD
---
Venue
The venue is still in the works! Register today and plan to join us in person. The Alliance will update you when the venue is chosen, with ample time for you to make travel plans and hotel accommodations.
---
Registration
Sponsorship
The Alliance welcomes your interest in sponsoring this exclusive, HPA member-only event. Our member meetings are truly unique gatherings that prioritize collaboration and connection among attendees. We want the very best experience for meeting attendees and event sponsors as well, which is why we carefully match interested sponsors with our meeting offerings.
Apply to become an event sponsor below. Before submitting your event sponsorship registration, view our full Terms and Conditions of sponsoring HERE. You will be asked to acknowledge that you have read and agree to these Terms when submitting your sponsorship registration.
Your event sponsorship registration submission will be reviewed and confirmed within 3 business days by Alliance staff. We look forward to collaborating together on this Alliance member event!
COVID Protocols
What to expect: Health and Safety Protocols
The Health Plan Alliance's hallmark is the unique space we provide for our members and partners to come together and meaningfully connect around the challenges and opportunities your organizations navigate every day. The health and safety of every attendee is our top priority and we are implementing health and safety protocols for our in-person events aimed at protecting all participants.
These protocols will be updated in response to ongoing guidance from CDC and local health authorities. If you have attended Alliance in-person meetings before, know this experience will be different in many ways – but also rest assured that we remain dedicated to creating unique opportunities to connect, learn and share with your colleagues from across the country.
Please review the Updated Safety protocols HERE.


By registering to attend the event you agree and understand these specific risks noted below:
Liability Disclaimer and Release: COVID-19

The novel coronavirus, COVID-19, has been declared a worldwide pandemic. COVID-19 is reported to be extremely contagious. The exact methods of spread and contraction are unknown, but the virus is believed to spread from person-to-person, by contact with contaminated objects, and even possibly in the air. People reportedly can be infected and show no symptoms yet still spread the disease. COVID-19 is reported to cause serious illness and death. The Health Plan Alliance cannot prevent attendees from becoming exposed to, contracting, or spreading COVID-19 while attending a HPA event or activity. Any in-person interaction may increase the risk of contracting or spreading COVID-19.

I agree and understand these specific risks and nonetheless accept them in order to attend this HPA event. These services are of such value to me that I accept the risk of being exposed to, contracting, and/or spreading COVID-19 in order to participate in person rather than arranging for an alternative method participating or not participating at all. I further hereby forever release and waive all claims and rights against the Health Plan Alliance in connection with exposure, infection, and/or spread of COVID-19 related to utilizing their services or premises or interacting with their members. I understand that this release and waiver means I give up my right to bring any claims including for personal injuries, death, disease, property losses, or any other loss that may be released and waived under applicable law, including, but not limited to, claims of negligence, and I understand that this release and waiver prevents me from seeking damages in any way against the Health Plan Alliance, whether such damages are known or unknown, foreseen or unforeseen, or that occur now or in the future.

I understand that the Health Plan Alliance and the event venue will implement COVID-19 health and safety protocols that align with the most recent guidance released by the CDC and the local health authority. These protocols will include details regarding code of conduct and safety measures (ie, wearing masks in public spaces, maintaining physical distance during sessions, etc) for all attendees. I understand I will be expected to adhere to these guidelines.
Attendees
Below is a list of all delegates registered to date for this event