Fly-In: MASBC PY 2024 Workshop
Event Date: 10/24/2022 - 10/25/2022
Event Overview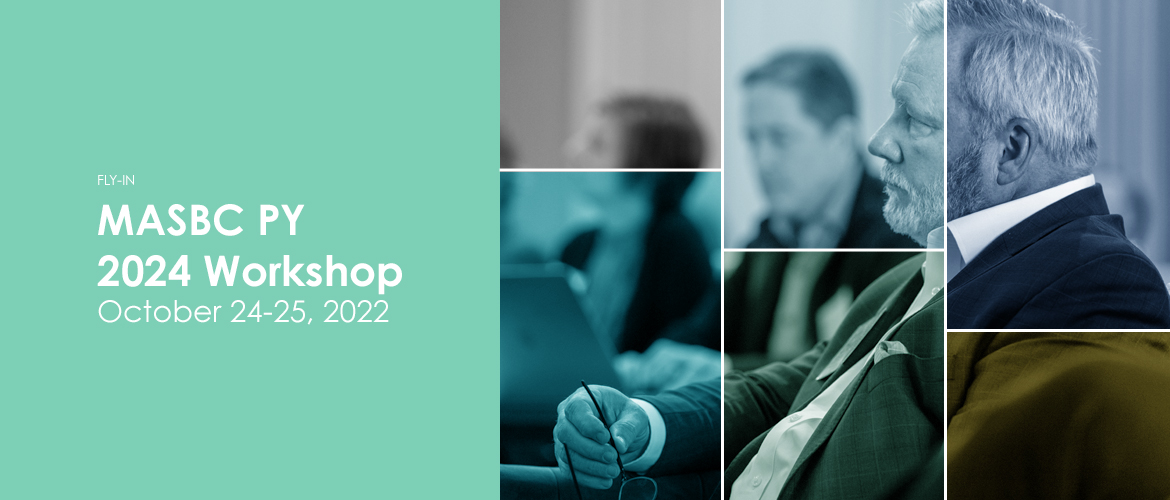 MASBC PY 2024 In-person Workshop
Attendance to the Medicare Advantage Strategic Bid Consortium (MASBC) for Plan Year 2024 requires a commitment from your health plan team regarding participation requirements, including faculty roles, poster submissions, and in-person event attendance. If you missed the kick-off call and would like to sign your organization up, complete the MASBC PY2024 commitment form HERE.
---
What will we cover during this in-person workshop?
The MASBC In-Person Workshop is a focused, highly participatory learning lab designed for Alliance member health plans looking to enter MA or grow their MA market penetration. The agenda will feature health plan case study and panels, complemented by expert-led lab sessions and breakout groups and is designed to provide actionable tactics and new ideas to support your MA strategy team back home.


---
Who should attend
Content will be of most interest to health plan leaders with responsibility for:
Product development and strategy
Actuary, P&L
Sales, growth and retention for your MA and Dual-eligible population
Care model, quality, population health strategy
---
MASBC PY2024 Project
Stay connected with the MASBC PY2024 Project Page. Visit the portal now for a curated view of all upcoming events, archived documents, and more. Have questions or need support? Email us!
---
Thank you to our event sponsors
Registration
Agenda
Monday, October 24
| | | |
| --- | --- | --- |
| 6:00PM | Dinner Carousel – Location TBD | |
Tuesd
Tuesday, October 25
| | | |
| --- | --- | --- |
| 7:30AM | Breakfast at the Alliance Learning Center | |
| 8:00AM | Welcome! | |
| 8:15AM | Townhall discussion with CMMI | |
| 9:15AM | Coffee break | |
| 9:30AM | What prospective MA members consider when shopping and choosing: National trends | |
| 10:30AM | Future-Proofing Your Bid | |
| 11:30AM | Lunch | |
| 12:15PM | Braindate café: Collaborative problem solving with your Alliance peers | |
| 1:15PM | MASBC Data Pilot Show and Tell: What we've learned and where we're going next | |
| 2:15PM | Wrap Up | |
| 2:30PM | Adjourn | |
Venue
Health Plan Alliance Headquarters
290 E. John Carpenter Freeway, Bldg 1
Irving, TX 75062



Hotels that offer shuttles to our headquarters


Note: Shuttle service is subject to change, check with the hotel before booking
Omni Mandalay Hotel
221 E Las Colinas Blvd
Irving, TX 75039
972.556.0800
Website


Aloft Las Colinas
122 E John Carpenter Fwy
Irving, TX 75062
972.717.6100
Email the Alliance team for walking directions to our office.
Website


Holiday Inn Express & Suites Irving Convention Center
333 W John Carpenter Fwy
Irving, TX 75039
972.910.0302
Website
Need more recommendations send an email to the Alliance.


Attire
Business casual attire is appropriate for the meeting. Remember that the hotel meeting room temperatures vary, so we recommend that you layer clothing to be comfortable in case the room becomes either hot or cold.
Ground transportation
Taxi from the Dallas/Ft Worth International airport and Love Field airport is approximately $25 one-way. UberX is $17-20. The hotels above provide a shuttle to the Alliance office at 290 E John Carpenter Fwy, Bldg 1, which is where the meeting will be held.
Dallas weather
View
the latest weather forecast.
Documents
2022 Poster Project Book
The Health Plan Alliance 2022 Poster Project offers dedicated poster sessions hosted during three in-person meetings. This book contains the posters and will evolve with the poster discussion notes from each meeting.
Attendees
Below is a list of all delegates registered to date for this event
Speakers