Fly-In: Health Equity & NCQA HE Accreditation
Event Date: 8/21/2023 - 8/22/2023
Event Overview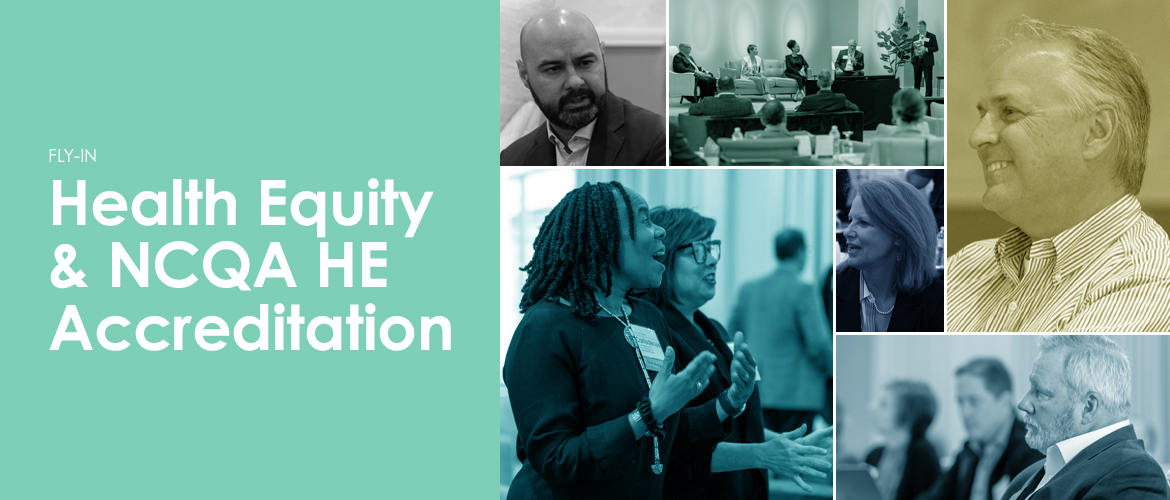 Unpack what it takes to achieve success in health equity and NCQA HE Accreditation
Join the Alliance network of quality, health equity and accreditation leaders for a unique retreat that encourages meaningful sharing among our health plans in an intimate and confidential environment. The day focuses on Alliance member plans' challenges and unique approaches to meeting the stringent NCQA HE accreditation requirements and delivering on critical health equity imperatives. Every member plan will benefit from hearing the various approaches underway at similar health plans across the country. Take back to your group a greater understanding of what it takes to be successful.
---
Why you should attend


Build meaningful connections with quality, health equity and accreditation leaders from your national network of Alliance colleagues.


Engage in candid discussion with your Alliance peers that will help you refine your own strategies and generate new ideas from other regional players competing in their own markets.


Get on-the-ground insights and guidance on approaches to NCQA Health Equity Accreditation.


Hear how other leaders are leveraging the tools and resources that support health plans on their health equity and accreditation journey.


Learn what health equity strategies and tactics are delivering the greatest impact for your Alliance colleagues.


---
Top five things members want to problem-solve
What are the most effective ways to align and coordinate health equity initiatives across the organization and within the provider community? What does the NCQA HE Accreditation roadmap look like and what organizational approaches work best?


How are health plans collecting and storing gender identity and sexual orientation data, and what direct-collection sources are promising?


What tools and technology enablers are driving successful implementation for data management and care management/delivery?


How are plans involving the community in identifying and prioritizing health equity improvement opportunities?


How are plans thinking about the long-term opportunity to leverage the hard work to deliver more equitable care and move the needle on important metrics?
---
Who should attend
This meeting is limited to Health Plan Alliance members and invited guests.
Quality
Accreditation
Compliance
Population health
Diversity, equity and inclusion and health equity initiatives
Member experience
Provider relations
Stars, HEDIS and CAHPS programs
Alliance member health system and/or provider groups are also invited attend.


---
Registration
Agenda
Last updated: May 30, 2023
For a printable, detailed agenda visit the Documents tab (coming soon).
AGENDA AT A GLANCE

Monday, August 21


2:00PM

Welcome and Introductions

2:15PM

Industry Directives to Advance Health Equity – CMS, Joint Commission, NCQA

2:45PM

Member Poll on Current Response – Where Does Your Organization Fit In?

3:00PM

Key Challenges in Advancing Health Equity

3:45PM

Tabletop Discussions – Transforming Challenges to Solutions and Best Practices

6:00PM

Networking Dinner

Tuesday, August 22


8:00AM

Welcome back!

8:30AM

NCQA Standards Working Session – Understanding the Details and Meeting the Requirements

10:30AM

Accredited Members Panel Presentation – What works? What to Avoid? How to Set Up for Success?

11:30AM

Working Lunch and Health Equity Vendor Solutions Showcase

1:00PM

Health Plan Case Studies: Best Practices Leading to Success

2:00PM

Key Resources Overview

2:45PM

Wrap up

3:00PM

Adjourn





Venue
Health Plan Alliance Headquarters
290 E. John Carpenter Freeway, Bldg 1
Irving, TX 75062



Hotels near our headquarters

Omni Mandalay Hotel
221 E Las Colinas Blvd
Irving, TX 75039
972.556.0800
Website


Aloft Las Colinas
122 E John Carpenter Fwy
Irving, TX 75062
972.717.6100
From this hotel you can walk to Vizient - ask us for directions.
Website


Marriott Dallas Las Colinas
223 W Las Colinas Blvd
Irving, TX 75039
972.831.0000
Website


Westin Irving Convention Center at Las Colinas
400 West Las Colinas Blvd
Irving, TX 75039
972.505.2900
Website
Need more recommendations send an email to the Alliance.


Attire
Business casual attire is appropriate for the meeting. Remember that the hotel meeting room temperatures vary, so we recommend that you layer clothing to be comfortable in case the room becomes either hot or cold.
Ground transportation
Taxi from the Dallas/Ft Worth International airport and Love Field airport is approximately $25 one-way. UberX is $17-20. The hotels above provide a shuttle to the Alliance office at 290 E John Carpenter Fwy, Bldg 1, which is where the meeting will be held.
Dallas weather
View
the latest weather forecast.
Attendees
Below is a list of all delegates registered to date for this event
ALLIANCE MEMBER
Provider Relations at Parkland Community Health Plan
ALLIANCE MEMBER
NCQA Accreditation Manager at Intermountain Healthcare