Value Visit: Clinical Excellence and the Member Experience
Event Date: 9/25/2023 - 9/27/2023
Event Overview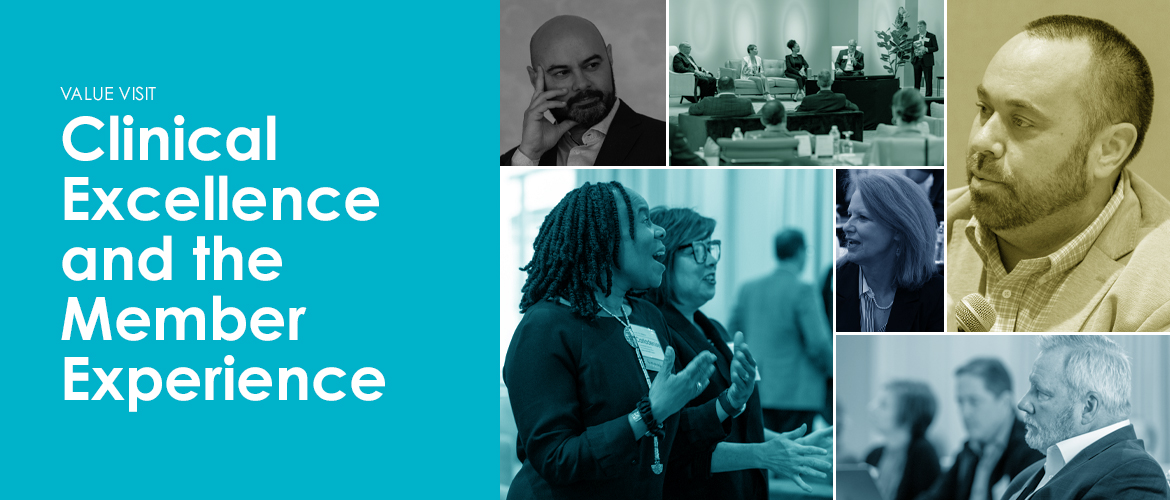 Achieving the quadruple aim of healthcare
Join us as we explore together the crucial intersection between excellence in clinical delivery and meeting members where they are. In this uniquely designed event we will dive deeply into the topics that matter most to you. We will uncover innovative approaches that move the needle on quality, outcomes and member engagement—all within laser focus of cost management imperatives.
Alliance leaders responsible for clinical outcomes, quality measure performance, and experience design for their members, providers, and partners come together to share learnings and explore the toughest barriers to achieving the quadruple aim of healthcare. Regional payors are placing health equity at the heart of their design efforts, thinking carefully about every opportunity at every touchpoint to ensure all members feel seen, heard, and cared for.
Some of the toughest challenges Alliance members are grappling with include integration opportunities—vendor point solutions for chronic care management, providing omnichannel connections to varied modes of care and effectively layering digital health options with knee-to-knee interactions between providers and members. We're also digging into engagement, satisfaction, and retention, all of which are necessary for strong year-over-year performance. A powerful lever every Alliance member seeks to deploy more effectively—Value Based Care arrangements and whole person care models that align incentives for providers, CBOs, and the members we serve.
---
Top reasons to attend
Discover, through a combination of insightful health plan case studies, panel discussions, and work sessions, the synergies between management of clinical services delivery, member engagement, and outcome measurement. We cover important aspects of health equity and population health imperatives, effective UM policies and practices, and behavioral health and chronic disease management.


Discuss with your peers how the end of PHE will impact members, the plan and operations, and specific tactics to address the issues associated with this industry event.


Take a journey into the minds of the health plan member in an interactive workshop-style format to uncover innovative approaches for solving the greatest challenges around member communications coordination and alignment, targeting and personalization, digital adoption and portals and call center innovation.


Collaborate alongside your Alliance clinical and member experience peers and take home a shortlist of tactics you can implement to move the needle on your most challenging quality metrics and Star Rating measures.


Hear how health plans are thinking outside the box on virtual, telehealth and hospital-at-home care delivery and reducing the total cost of care.


Discuss hot trends in pharmacy including new drug approvals and approaches to managing high cost gene therapies and specialty drugs.


Refine the skills needed to navigate the business of healthcare, learn the valuable skills needed for effective leadership and position yourself for advancement into new leadership positions. In an interactive workshop format you will learn what it takes to succeed in this complex industry. You won't want to miss this chance to lean in, ask questions, and network.
Have a topic you would like to see covered at this meeting or a session you would like to pitch? Let us know.
---

Who should attend
This meeting is limited to Health Plan Alliance members and invited guests.
Chief medical officers, executive sponsors, directors, managers with responsibility for clinical operations, pharmacy, quality, care management, or clinical outcomes
Chief experience officers
Chief marketing and/or sales officers
Chief administrative officer
Chief operating officers
Call center executives and managers
Chief service officers
Health services executives or managers
Executives responsible for your organization's digital transformation strategy
Alliance member health system and/or provider groups are also invited attend.
---
Thank you to our event sponsors
Registration
Agenda
For a printable, detailed agenda go to the Documents tab above (coming soon) Updated: 5/5/2023
Agenda at a Glance

Monday, September 25, 2023
| | |
| --- | --- |
| 6:00 pm - 8:00 pm CT | Welcome Reception |


Tuesday, September 26, 2023
| | |
| --- | --- |
| 7:30 am CT | Networking breakfast |
| 8:30 am CT | Welcome and introductions |
| 9:15 am CT | Leadership Development Workshop: Gaining skills and agility for personal and professional growth |
| 11:30 am CT | Expert Panel: Advancing health equity, minimizing disparities, improving quality, and closing the gaps |
| 12:15 pm CT | Networking lunch |
| 1:15 pm CT | Gaining inspiration for managing high-cost drugs and gene therapies while keeping the member front and center |
| 3:15 pm CT | Integration and partnerships in chronic disease management, population health strategies, and sound UM practices |
| 6:00 pm CT | Networking dinner |


Wednesday, September 27, 2023
8:00am CT
Networking breakfast
8:45 am CT
Welcome back and day one recap
9:00 am CT
New thinking in an industry ripe for disruption: Winning amid prevalent clinical and member stumbling blocks
9:30 am CT

Health plan innovation showcases: Breaking down silos and achieving clinical excellence through cost-effective member-focused solutions

Engaging with digital and virtual solutions
Transforming call center strategies
Moving the needle on quality
Engaging, coordination etc.

12:15 pm CT
Networking lunch
1:45 pm CT
Idea Factory: Health plans' greatest member challenges solved through collective wisdom
4:00 pm CT
Adjourn
Venue
Intercontinental: Chicago Magnificent Mile
505 North Michigan Ave
Chicago, IL 60611
312.944.4100

The hotel room block expires on September 4, 2023


Our room rate is $279 plus taxes/fees. This rate may be available three days prior and three days after our meeting dates, depending on the hotel's availability. You should call the reservations department at 314.944.4100 and ask for the Health Plan Alliance (Vizient) room rate or click here to book online. Should you call after the deadline, you will not be guaranteed to receive our group room rate or the hotel may be sold out. Please note that the group block could sell out before this date.



DRESS




Business casual attire is appropriate for the meeting. Remember that the hotel meeting room temperatures vary, so we recommend that you layer clothing to be comfortable in case the room becomes either hot or cold.





GROUND TRANSPORTATION




Uber/Lyft from the Chicago O'Hare (ORD) or Chicago Midway (MDW) airports is approximately $32-40 (17 mile drive to/from ORD and 13 mile drive to/from MDW). Valet parking is $78 daily rate.





CHICAGO WEATHER


View

the latest weather forecast.
Attendees
Below is a list of all delegates registered to date for this event